The 2018 season by many pundits will to give MLB fans some unanticipated results. The previous season had some statistics that were brilliant and by many standards unexpected. The following is our predicted top daring table standing at the end of this season. In each team in this top ten chart has a collection of reasons why we placed the team in that specific position and in case of radical changes, the expected results.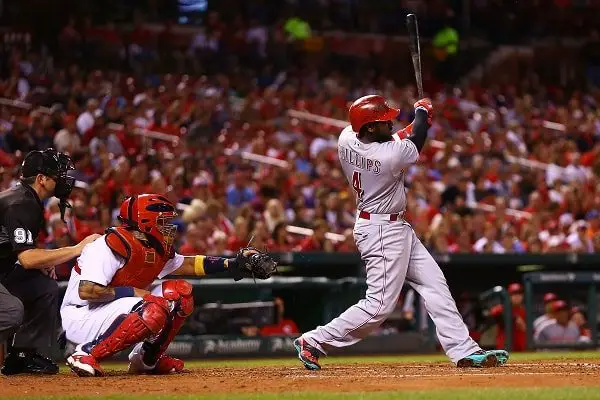 <strong>ST. LOUIS CARDINALS</strong>
One of the vibrant robust facts of the Cardinals is their strong defense, which has made them to be our top ten slot in the MLB. Their hitting numbers over the seasons have been good and this gives them an added advantage over other teams such as Mariners. However, their main weakness is their pitching competitiveness, which by any standards is weak, and it is disappointing to note that as a team, they did not attempt to strengthen it. However, on a skill and competition level they are a good team.
<strong>LOS ANGELES ANGELS</strong>
The Angels as commonly known are going to make it to the top nine but with many issues in their quest. Take for instance their hitting which has not been in the same standards with other teams such as HOUSTON ASTROS. However, looking at their defense, it is arguably one of the best in MLB and this has been the reason why there are still considered as a competitive side by top cream teams. However, for hitting and pitching, they are sadly average linked to many other teams in the MLB.
<strong>LOS ANGELES DODGERS</strong>
Our number eight slot in our MLB predictions is DODGERS. Although they are not the best in terms of hitting capabilities, they have the best defense compared to many teams in the MLB. Their pitching by many standards is good and sturdy. Although the team can be considered as a competitive side, they must try to overcome last season shame of consecutive losses. However, it is a team to watch this season.
<strong>ARIZONA DIAMONDBACKS</strong>
Diamondbacks according to our predictions are the best team to be number seven in the MLB standings. These are some of the reasons. First, the team has a huge potential on hitting capability and this has been their main strength throughout the previous season. Diamondbacks have a relatively good defense that is by many standards good for a top-notch team. The main weakness of the team however comes from their unpredictable strength in their
pitching
strength.
<strong>WASHINGTON NATIONALS</strong>
With a new manager, this is going to be an interesting season by the Nationals. The new manager with have an easy time to add more dynamism to the already powerful hitting section of the team and a well-trained pitching team. The defense although is one of the best in the league has to be reinforced if the team dreams of getting to top five. The main issue of the team comes from inconsistency sometimes when playing competitive sides and the new manager must rectify this.
<strong>CHICAGO CUBS</strong>
The Cubs as they are commonly known will have a successful season according to our predictions. With addition of the talented Yu Darvish in the pitching part of the team, the cubs are ready for any team. It is good to mention that Cubs has had one of the most dynamic hitting in the past seasons and this is not going to change according to our prediction. The team however must improve their competitiveness especially against big teams and maintain the winning uniformity.
<strong>CLEVELAND INDIANS</strong>
Indians, known for their exceptional pitching are likely to use that as their main advantage this season. We also expect some exceptional throwing form this great team owing to the fact that they want to have better results and be competitive and ahead Red Sox in the MLB standings. This dream is possible owing to the fact that they have an incredible defense but the main drawback of the Indians is their lack of consistency in winnings and some pundits have argued that it will be hard for this team to get more than twenty wins in a row.
<strong>BOSTON RED SOX</strong>
Red Sox are known for their incredible well round team. This season will not be different. First, the Red Sox will be number three is the table standing because of their huge potential on hitting capability and this has been their focal strength in the previous season. Second, looking at their defense, it is debatably one of the best in MLB and this has been the reason why there are still considered as a competitive side by top cream teams. However, the Red Sox ought to work on their winning strategy that has been lacking sometimes.
<strong>NEW YORK Yankees</strong>
The last year MLB season was to most people and especially Yankees fans a frustrating season. Under the new management of Aaron Boone, there are high hopes of a better season because he is expected to work on the following aspects. First, the Yankees defense has been one of the best in the recent past and this has always been attributed to this team. The hitting potential of this team is also incredible although it seems though like there is not exploitation of the full potential. The main issue with the Yankees is their pitching. This will be some of the bases Aaron Boone will be judged based on.
.<strong>HOUSTON ASTROS</strong>
Scrutinizing the teams in the current MLB, Astros is the best team by far. This conclusion of the team is the best team is from the fact that there is the individual quality of players and a winning mentality. Many pundits predict that this year will be a replica of another Astros season based on their quality in pitching which is exceptional, pitching and defense. Comparing the team with other competitive teams, the team has an unmatched potential of continuing with its legacy of playing beautiful baseball.
Our disclaimer, however, is that some predictions are based on past statistics and previous team form and in case of any injuries, or unexpected team changes, some predictions will be unattainable.