Did you know that not only your footwear is important in sports but socks as well? Well, if you didn't, then read on before you go to the next baseball meet wearing your regular socks.
Today, we would like to focus on the best youth baseball socks. Not that youth baseball socks are different from adult socks in terms of features, but some people run into problems with small size availability.
Well, if you haven't been able to find a good pair for your kid or maybe yourself, then we have 4 great options for you. Aside from providing you with an overview of each of the sock options, we will provide you with a handy guide on choosing the right youth baseball socks.
Shall we get started?
Best Youth Baseball Socks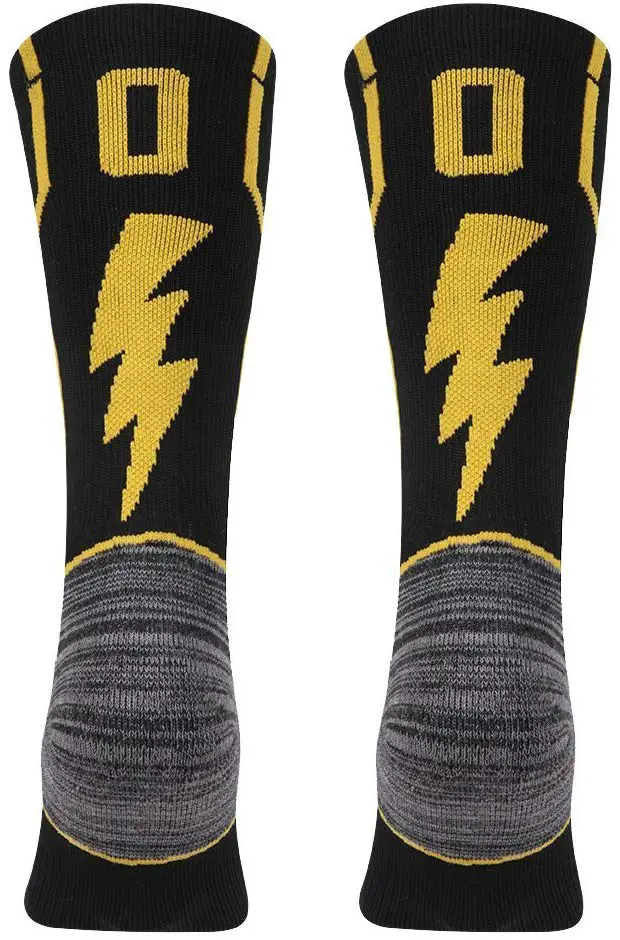 If you are ready to spend the money on quality baseball socks, then this pair by KitNSox may be the best option for you. These socks are breathable, comfortable, and protective.
To ensure breathability, KitNSox employs a material called CoolMax. Thanks to what KitNSox calls Air Hole arrangement, the fabric in these socks is breathable and moisture-wicking. The fabric also is designed to effectively dissipate heat, which should make these socks comfy in hotter weather.
To ensure comfort, these socks feature arch and ankle compression to reduce fatigue and support the foot. Paired with good and supportive footwear, these shocks should be able to ensure great comfort and fatigue prevention on the field. And to prevent the socks from sliding down, KitNSox has equipped them with elastic band tops that keep the socks tight on the calf.
But perhaps more importantly, the KitNSox socks also have thickened heel and toe areas to protect the wearer's feet from abrasion and blisters during active plays.
That's about it about the performance aspect of these socks. But they have one more cool thing to offer.
On the backside, each KitNSox sock has a number ranging from 0 to 9. And the nice thing here is that you can choose the desired numbers when buying the socks to match your own player number in the field. Not that this feature makes that big of a difference in this sock, but it's a cute little detail that KitNSox has thought about.
Pros:
Durable and breathable.
Comfy and supportive.
Increased protection in the toe and heel areas.
Cons: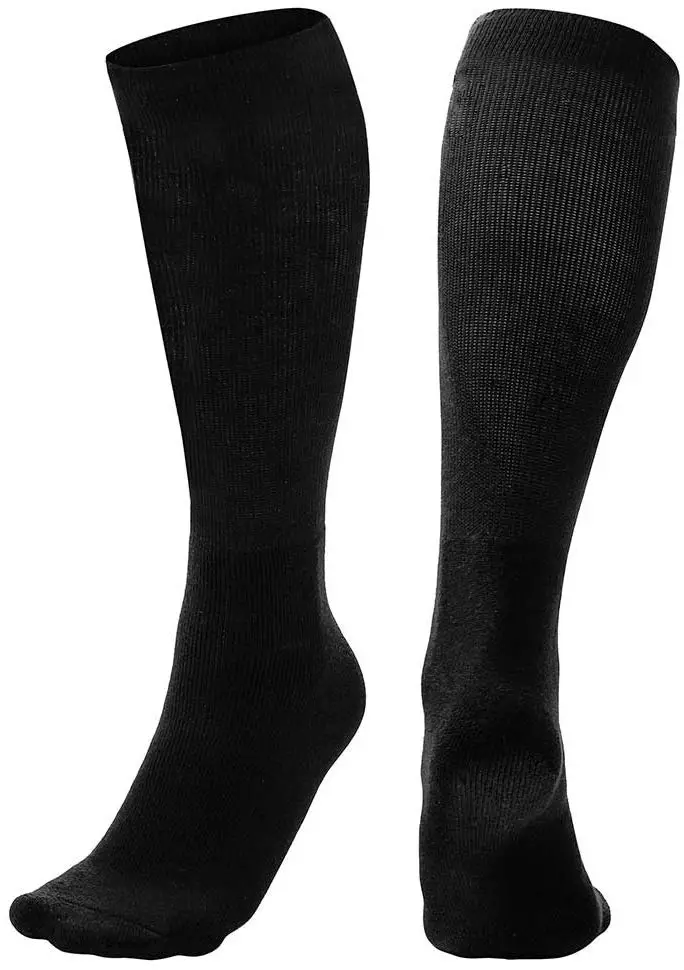 The Multi-Sport socks by CHAMPRO don't have all the bells & whistles offered by the KitNSox pair. As a result, these socks are a little bit cheaper than the KitNSox socks, so they are going to be a better option for those on a budget, as well as if you expect your kids to grow out of the socks soon.
The material choice in these socks vastly differs from that in the KitNSox socks – here, the accent is on polyester, with the socks containing 78% of it. The KitNSox pair contained just 18% of polyester.
The high polyester content should impart these socks a good bit of durability. On the other hand, polyester isn't very breathable, so we think that the KitNSox pair is going to be a better option for hotter climates.
What about comfort and protection though?
Well, these seem like your regular sport socks. As mentioned above, they don't have the fancy features of the KitNSox pair. Overall, they should be decent for not too hot days, as well as if your kid isn't playing baseball too often.
What we like about these socks more than about the KitNSox pair is that you have more colors to choose from. With that being said, a few buyers have complained about inaccurate colors, so you may want to avoid flashy options.
One thing to keep in mind with these socks is that no sizing charts are provided on their Amazon product page. The sizing chart on CHAMPRO's website should be able to help you with picking a size.
Pros:
Inexpensive.
Available in several colors.
Cons:
Not too breathable.
Colors may be inaccurate.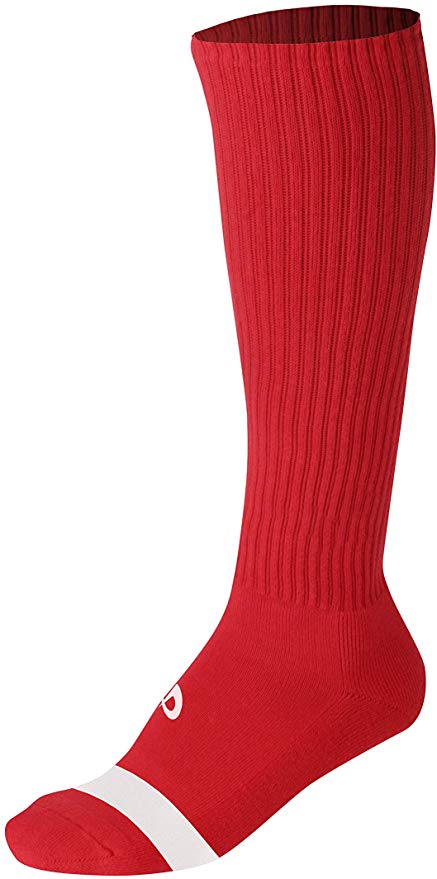 The Phiten Performance socks are great socks if you are looking for something high-performance. Phiten claims that these socks are worn by professional baseball players, which should be pretty demonstrative of what this pair has to offer.
Phiten doesn't go into as much detail on this pair as KitNSox did on its socks, but these socks appear to be no less durable, supportive, and protective than the KitNSox socks. Well, that's what you'd expect for the higher price that Phiten has put on these socks.
The Performance socks feature a blend of 87% cotton, 10% polyester, and 3% polyurethane. Thanks to the high cotton content, these socks should be very breathable and comfy. However, regular cotton is less durable than polyester, which would make you think that these socks are weaker than the CHAMPRO socks.
Not only that, but cotton is known to cause irritation since it readily absorbs moisture.
Well, that should not be a problem with these socks since they are permeated with what Phiten calls aqua-titanium. If you are wondering, aqua-titanium basically is broken down titanium dispersed in water.
As claimed by Phiten, titanium is widely used in medical devices due to its antioxidant and anti-inflammatory properties, and these benefits should make these cotton in the socks comfy and irritation-free.
Finally, the Performance socks feature cushioning strategically placed on high-impact areas for increased comfort and protection.
With all that being said, these were available only in 11-13-inch size at the moment of this review's writing, so they are good for big-footed youth. Keep this in mind not to make a pretty expensive mistake.
Pros:
Durable. 
Soft and breathable.
Cushioned in high-impact areas.
Cons:
Expensive.
Available only in 11-13 inches.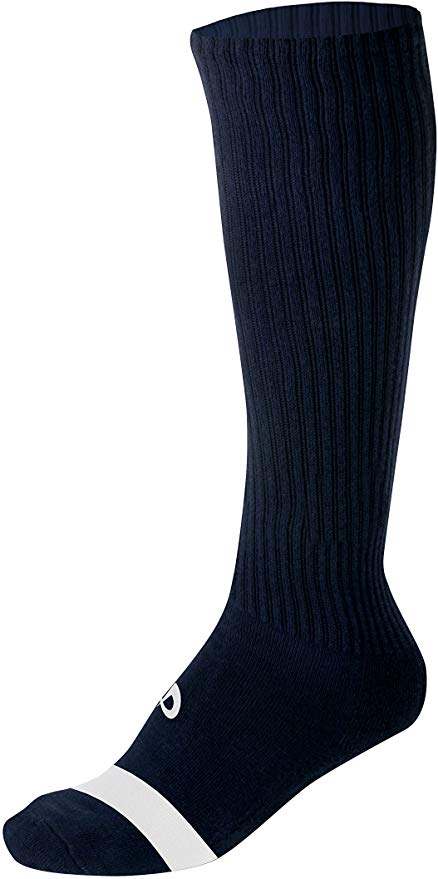 Finally, we have another Phiten Performance sock model, which appears to be identical or at least very similar to the Performance socks we've just reviewed. You could choose this pair based on price and availability, as well as if you just like black socks more.
Of course, Phiten has again employed its proprietary aqua-titanium technology in these socks to deliver anti-inflammatory and antioxidant properties along with durability. Not only that, you are getting a breathable and comfy cotton construction with additional cushioning placed in high-impact areas.
Unfortunately, the sizing in the black Performance socks is the same, so they are again only good for the big-footed youth or adults. And it's pricey, though it may be worth it for your kid's needs.
Pros:
Durable. 
Comfy and breathable.
Well-cushioned.
Cons:
Pricey. 
Available only in the 11-13-inch size.
Things to Look in the Best Youth Baseball Socks
Some people may not think that socks are important in sports. But if you've had a long hike or have participated in an active game of baseball, you probably know how important quality athletic socks are.
If your kid is serious about baseball, then you wouldn't want to scrimp on a good pair of socks. When it comes to ensuring comfort and protection, $20 for a pair isn't too much.
With that being said, how do you choose the best youth baseball socks?
Well, let's find out what matters the most in them.
Sock fabric
First comes sock fabric. How durable, comfortable, and protective socks are will largely depend on their material. Below, we will overview common fabrics used in athletic socks.
Keep in mind that manufacturers rarely use just one fabric in their socks – most often, it's a blend of a few. Thanks to this, a pair of socks may have properties of not just one but multiple fabrics.
Cotton
Cotton, to be fair, isn't the most popular choice of athletic sock fabric, but we should cover it nonetheless.
The bad thing about cotton is that it readily absorbs moisture and doesn't let it out easily, so after a few hours of play, you may feel like that your feet are wrapped in a wet washcloth. Not only that, but the trapped moisture may cause blisters and foot fungus.
With that being said, Phiten Performance socks were mostly made out of cotton, right? Well, as we mentioned above, Phiten uses their proprietary aqua-titanium technology in their socks. And as you probably remember, aqua-titanium has antioxidant and anti-inflammatory properties.
And it seems that Phiten has been able to make use of the benefits of cotton – namely, its softness and breathability – while keeping its negatives at bay.
However, regular cotton socks definitely aren't good for baseball, so avoid them unless they have some bells & whistles to counter the downsides of this fabric.
Synthetics
Synthetics are very commonly used in any kind of athletic socks. Crafted synthetically, fabrics like nylon or Lycra have properties and benefits that are unavailable for natural materials.
Usually blended in with other materials, nylon, for example, adds durability to socks and also dries quickly.
Elastane, spandex, or Lycra add stretchiness to socks to help them fit properly and retain their shape.
Fabrics like CoolMax polyester, Isolfil polypropylene, or Wickspun acrylic are used to wick away moisture and keep your feet blister-free.
There also is Ingeo, a corn-based polylactic acid fiber that is similar to polyester but has an accent on eco-friendliness.
Overall, the benefits of synthetic fabrics are that they are durable, moisture-wicking, and dry fast. On the other hand, synthetics are less comfortable in hot conditions, and they are losing heat quickly when wet.
Merino wool
Merino wool is less commonly used in socks, partly due to its high price. However, it offers some benefits unavailable to other sock fabrics.
Most notably, Merino wool can absorb up to 30% of its weight in water, allowing your feet to stay dry longer. Not only that, but Merino wool is comfortable in both cool and warm conditions. And perhaps more importantly, Merino wool doesn't make your feet itch thanks to its fine fibers.
Silk
Silk is usually used in liner socks. It's more of a natural insulator solution that wicks moisture and keeps the skin comfortable. On the other hand, it's not as durable as other fabrics, so you don't want to use silk socks as your primary pair.
Sock thickness
Sock thickness (also called sock weight) is also quite important.
The thicker (heavier) the sock, the better its cushioning. Not only that, but thick socks are also warmer, which is great for cool conditions. If it's cold in your area or you are going through a colder season, then you may want to look for thicker socks.
For summer though, a lighter sock would be a better choice since a thick sock's warmth could be excessive. With that being said, light socks have less cushioning, so you may want to experiment to find a good balance between coolness and comfort.
Sock fit
Socks should fit snugly without cramping, folding, or sliding around the leg. Don't buy a bigger size for your kid thinking that they will grow out of it – you will probably regret this decision. Excessively sized socks will cause friction, leading to blisters. Even a comfy and protective pair like the KitNSox socks won't be able to do their job if it's too large.
Consult manufacturers' size charts to pick the right sock size. Usually, sock sizes show the length of the foot in inches. You may measure your feet to get the right size, but manufacturers usually provide sock-to-shoe size conversion charts to make things easier. Knowing your shoe size, you should be able to easily pick the right sock size for your kid.
Also, keep in mind that baseball socks are knee- or calf-height. Back in the days, high socks/stirrups were important since many pros and amateur baseball players used to wear knickerbockers. Knickerbockers have gone out of fashion in the 20th century, but high socks/stirrups are still popular with baseball players.
Sock construction
Finally, we should have a look at constructional features that you can see in some socks. While the sock fabric is the basis of a sock's features, manufacturers can employ constructional features to improve on what the fabric already provides.
We've seen a few of these features in the overviewed baseball socks. Let's overview them more in-depth.
Padding
First comes padding.
Manufacturers may add additional padding to high-impact areas of the sock – namely, the toe and heel areas. Thanks to such additional padding, a lightweight summer sock could actually have the comfort of a thicker sock without the added weight and warmth.
You may, of course, opt for a thicker sock to achieve the same effect, but a thicker sock may be unnecessarily warm and heavy for you.
As overviewed above, the Phiten performance socks have padding in high-impact areas.
Protection
Some socks are also going to have protection in high-impact areas. This is similar to padding, but it's not quite the same.
KitNSox socks, for example, employ a thickened piece of fabric in the heel and toe area. The thickened fabric is going to be more resistant to abrasion, and it won't allow friction to eat through the socks. Not only that, but KitNSox socks have some cushion in the protected areas, so protection and padding can actually be combined with each other.
Support
Foot support will largely depend on your footwear, and if you want to have solid and pain-free contact with the ground, you should really pay attention to what kind of shoes you are wearing.
With that being said, socks can also make a contribution to foot support. For example, the KitNSox socks deal with this by compressing the arch and ankle area. Other manufacturers may use different methods to ensure foot support, so keep an eye out on them.
But again, keep in mind that good socks won't be able to compensate for bad footwear. Both your shoes and socks should be supportive if you want to have a solid base under your feet at all times.
Breathability
Finally, we have breathability.
Breathability largely depends on the fabric used in the sock. However, manufacturers may employ mesh-like areas in their socks to improve air circulation. This simple trick can make synthetic socks – which are less breathable than say cotton – more comfortable in warm conditions.
Why Buy Special Socks for Baseball?
You may be wondering why you should even spend $15-20 on a pair of baseball socks. Wouldn't a regular pair of high socks suffice just fine?
Well, no. Regular, non-athletic socks aren't designed for active wear, and they lack many, if not all the features that baseball socks have.
Regular socks aren't going to have additional padding in the toe & heel areas, they won't necessarily be breathable, they won't have enhanced support, and they won't be nearly as durable as athletic socks.
Normal socks are designed to keep your feet comfortable while walking. Once you start running, friction with the shoe's interior comes into play, which not only slowly wears the socks out but also may cause irritation and blisters.
In contrast, baseball socks are specifically designed to combat irritation and blisters and ensure comfort during active games. No regular sock is going to do the same.
With that being said, you don't need to buy expensive baseball socks. They are worth it, but only if you do need their benefits. If you or your kid won't be playing baseball too often, you may opt for cheaper and less protective socks.
It's difficult to say what kind of socks will be good for you though. You will have to try a few pairs to find this out. This will depend on your preferences, as well as on your footwear.
Stirrups vs Baseball Socks – What's the Difference?
One thing you should also know about is the difference between the overviewed baseball socks and baseball stirrups which we've mentioned a few times.
Stirrups have been very popular up until the mid-90s, and while they aren't nearly as popular as back in the days, some teams still prefer to use them.
With that being said, do you need to buy stirrups in addition to baseball socks? Well, no, you don't really need stirrups nowadays since sock dyes have made a long way since the days of stirrups.
Originally, stirrups have been worn because players have preferred knickerbockers (also known as knickers), baggy-kneed trousers. Stirrup socks could be worn conveniently with knickerbockers, and they also were vital to ensuring the safety of the players.
The stirrup socks weren't worn directly on the calves though – players have worn white socks (called sanitaries) under them.
You see, colorfast dyes weren't a thing yet a few decades ago. Old dyes weren't resistant to fading, and if a player got wounded in the leg during a game, it was thought that they could die from blood poisoning.
Another reason for the popularity of the white socks was that they were inexpensive and were easy to replace.
Nowadays, because knickerbockers have somewhat fallen out of fashion, stirrup socks aren't as popular as they were back in the days. As mentioned above though, they are still used by some teams, and many consider stirrups to be an inseparable part of the baseball charm and history. It's thought that stirrups were originally worn to attract more people to baseball games, particularly ladies since they loved exposed calves.
Well, this probably still is the case even today, but as mentioned above, there is no need to wear stirrups nowadays.
With that being said, if you do want to wear stirrups, then you will have to pick proper pants. If the cuff of your pants is at the knees, then you can use stirrups. But if you don't want to wear socks and stirrups on top, go for baseball socks like the ones we reviewed. There also are combination 2-in-1 stirrup-undersocks that mimic the real thing, but these are beyond this material.
Final Words
Well, there you have our overview of the best youth baseball socks!
Make sure to choose socks for your kid carefully – it's crucial that they have a sufficient amount of foot support and comfort during the game. Not only that, good socks, as explained above, can ensure long-term foot health.
Remember to consider your budget, your kid's needs, preferences, as well as how serious they are about baseball. And if needed, do not scrimp on a $20 pair!