Youth Baseball Bats Buying Guide:
Shopping Tips to Take Home
Before signing off, it is imperative that you get to know some of the best shopping tips while looking for perfect youth bats. This will act as a guideline to ensure that you end up buying the best products in the market. Remember, there are thousands of brands out there and finding the best might prove to be a hard nut to crack. Below are some shopping tips to keep in mind:
Choosing wooden vs. metallic bats
A buyer can decide to settle for either metallic or wooden bat. Well, the best bats are normally metallic, since they are quite light as compared to wooden ones. Metallic bats also do not break easily. Moreover, they are easy to swing which implies that they provide more power on the baseball. Wooden bats are also good. Pro players normally consider them as ideal when training. If you are out buying for your kid, it is important to ask them whether they prefer wooden over metallic or vice versa. Different people have got different tastes with regards to baseball bats. Doing this guarantees that you buy the top bat for your kids.
The length of the bat
Another important tip to keep at your fingertips when carrying out your shopping is the length of the bat. This depends on the age and height of the child. The last thing that you should do is to buy a bat too big for your child. It is like attempting to discourage him from the game because he or she would struggle to swing it. It is also wise to remember about the weight of the bat. If it is too heavy then playing using it would also be cumbersome. Try and find something which fits the size and age of your kid. You can also opt to take them with you while shopping. This is even easier since you can do the testing while making the purchase.
The barrel
This refers to the section of the bat used to hit the ball. A good bat should have a sizable barrel. The advantage of a well-sized barrel is that it can give the ball good contact. This tip is good for learners since they will not be missing the ball frequently. Nonetheless, bats will smaller barrels are ideal for those with experience in the game. Smaller barrels make the bats lighter, thus the swing is also faster.
Learn more about youth Big barrel baseball bats.
Settle for a bat with a good handle
The handle of the bat should be chosen wisely. Depending on your child preference, a thin handle can be a good choice. This gives your child a good playing experience. The grip of the handle should also be firm. Settle for something which not makes the hands of your child keep sweating every time. A slippery handle will only drive away your child from playing the game. The good news is that the best bats mentioned above have good handles. Hence, you can decide to settle for any which suits your budget plan.
Lastly, shopping for the perfect bats for youth players is not as hard as you might be thinking. With the shopping tips mentioned in the critique, you will certainly find it easy to take home one of the best bats in town. The list of the bats included in the article should also give you a hint on what to look for. The most important thing to remember is to always settle for a brand which will not disappoint. To get this information simply go through links above & read user reviews there about best youth bats.
USA Best Youth Baseball Bats Reviews of 2020
How To Choose a Best Youth USA Baseball Bats:
Choosing the perfect size bats for youth calls for some knowledge, not only the player's league rules, but also the ability of the player to hit the ball.Some leagues need to see the logo of the official supplier on the bat before the match. This is to ascertain that the material, length, and size of the barrel are of the required standards.
Most of the best youth bats are light and therefore easy to swing. Apart from being lighter than wood bats, metal bats don't break easily.
However, most wood bats have more hitting power.You should consider the length before deciding on the perfect bat for your 7  year old to buy. You can always find recommendations for various sizes of the players to go with a range of sizes of the bats.
There are many USA baseball bats in the market, and picking the best among them is a difficult job. But there are some ways to choose the right bat for your young player.
Let your player pick it up and feel it
Picking up a bat and feel it yourself is one of the best ways to choose the best bat. So if you want to pick the right bat, let the one you are buying for hold the bat and swing to see how it feels. By doing that a player will be able to tell if he is comfortable with the bat's length, weight, grip, and other factors of the bat.
Even if there's a bat, you don't favor at least let the young kid swing the bat before deciding against it. That goes for if you find a bat that you like. But keep in mind the priority is the one you are buying for. So obviously letting the one who will play choose the bat for him is the best by letting him hold a bat and swing to get a real feel of the bat.
Drop
The drop of a bat refers to the net difference between the bat's length and weight. For example, if a bat has a length of 29-inch and weighs 20-ounces, the drop weight of the bat is -9. What drop weight do is tell how heavy or light the bat. Essentially, the higher the drop weight, the lighter the bat because weight is distributed lesser along its length. Oppositely, if the drop is low, the bat is heavier.
As to why considering drop before buying is that every bat mentions their drop in the specifications. If the player is physically strong and a power hitter, a bat with a low drop will be better. Oppositely, if the player is a contact hitter and needs a bat with less weight and good swing higher drop weight is better.
The barrels materials and size
Choosing the right barrel materials and size is an important aspect before choosing the right USA bat. Before the standard was 2 1/4 -inch barrel and now with the new USA bats regulations changed which allows 2 ⅝-inch diameter barrel.
For example, if the barrel is made from alloy, then it will be stiff and will offer more power, but it will lack the trampoline effect or bounce. Also, an alloy barrel bat is heavier than composite ones whereas composite barrels offer a great degree of performance with higher bounce.
The size of the barrel depends on the player. A good and experienced player can perform really well even with a thin barrel whereas a new player may not be able to show the same ability with a thin barrel but could do better with a larger barrel with a wide sweet spot for greater accuracy.
The handle's materials
Another aspect to consider before buying the best USA bat is the material of the handle of the bat. Like the barrel, the handle also comes at various materials. The most common materials used are alloy and composite. Usually, an alloy handle comes with an alloy barrel which makes up a stiff and durable bat suitable for power hitters.
On the other hand, a composite handle is more flexible and brings a whip effect to the bat. It also helps add more dynamic force and speed when swinging the bat faster at the plate. As a result, the handle's speed adds to the hit speed of the barrel.
Piece construction
USA bats, just like any other baseball bats are constructed in one piece, two-piece, and three-piece designs. Before purchasing a bat, you should consider the piece construction as well because each design type has its advantages and suitable for specific kinds of players.
One-piece USA bats are constructed with a single material without any break, and they are usually stiff and durable. This types of bats are perfect for players who like to hit with a lot of power and rely on their strength to hit far.
Two-piece USA bats are constructed in two parts the barrel and handle. These two parts are usually made of two different materials joined together. Often, a two-piece bat features an alloy barrel and a composite handle. There are also bats that have a composite handle, and composite barrel joined together as two different parts. Two-pieces bats have a more whip effect and greater swing speed.
Three-piece USA bats are essentially the same as a two-piece with one crucial difference, these bats have a small connection piece that joins together the barrel and handle. The small connection also reduces any feedback vibrations and provide a comfortable experience. These types of bats are perfect for players who want the speed of a two-piece bat along with a feedback-free hitting experience.
Swing weight
When it comes to choosing the right USA, bat swing weight is yet another vital factor. Generally speaking, the greater the swing weight of a bat, the less swing speed it will generate. Oppositely, if the swing weight is less, the bat will be light, and swing will be greater.
A player who depends on his power and strength to hit a ball far may be able to wield a bat with higher swing weight effectively. On the other hand, a contact hitter who relies on swing speed would need a bat with lower swing weight to hit effectively.
Similar to other bats USA bats differ by how weight is distributed as well. Some bats have perfect weight throughout their body, these bats are considered balanced bats. Balanced bats are easier to use with their predictable swinging momentum and precision; hence, many players prefer to use these kinds of bats.
Oppositely, there are bats considered end-loaded bats that have slightly additional weight at the end of the barrel which makes them barrel heavy. These are perfect for power-hitting on the plate. But keep in mind end-loaded bats have slightly unpredictable swinging momentum and takes some time to get used to.
Leagues approved
The most important part before purchasing a USA bat is if it's approved to play in the league the player will participate in. Typically a bat with USA stamp certification can be used in AABC, AAU, Babe Ruth, Dixie, Pony, and Little League. So make sure if the USA bat certified to play in the league your young player will play in.
Types of Bats
Wood – Makers of wood bats usually use Maple, Ash, Bamboo or Composite Wood. Among the best bats, the Bamboo type is the strongest of them all and it is more durable than the rest, while Maple is stronger than Ash. It is also harder and denser than Ash.
However, Ash is softer, allowing for good flexibility when swinging. It is, moreover, produces an excellent whip during hitting resulting in a better control of the bat.
Composite Wood bats are made of a combination of wood and composite materials. Although durable, they are not allowed in most leagues.
If you are a power hitter, the bat you can probably pick according to many reviews would be Maple bat for its 'hard and stiff' qualities, which can allow for the possible force on the ball.
Alloy – Alloy bats have been considered as one of the powerful bats for years, going back to the 1970s. They were introduced for the purpose of providing an alternative to players who were not comfortable with wood bats since they have more performance.
Made of metal and aluminum, the bats have more durability than composite ones. When playing with an alloy bat and you happen to hit a rock, all you get is a dent. You, therefore, can still use it.
Presently, alloy bats are of light-weight although composite bats are still lighter.
However, they have a high bat speed with a combination of a powerful swing. Due to their light weight and strength, alloy bats still retain a position among the best bats list, since they have a trampoline effect which speeds up the ball travel.
Composite – Composite bats are some of the best bats according to the many online reviews by users & our experts. Check out this review of the Demarini CF Zen here.  They are considered to have better performance than aluminum bats due to their swing weight, bending vibrations, trampling effect, bending stiffness, and sound.
Composite bats hit a low when in use in cold temperatures. Since polymers are used during the making of the bats, use in cold temperatures can easily result in cracking. Although composite bats still rank on top, they are a danger to pitchers due to the high speed of the ball when batted.
However, regulations have been put in place to ensure that the trampoline effect of composite bats is under control.
Half and Half – They are also referred to as hybrid and have won the place in youth bats reviews as one of the best bats. The handle and the barrel of these bats come separately and then they are joined together.
This design helps a great deal in creating a trampoline effect from the barrel since there is flexibility at the point where they meet. Users & our expert team have also put forward the quality of half-and-half bats in the creation of minimal vibration in the handle since it's separate from the barrel. This, consequently, lessens the chances of the player getting hurt.
Sizing A Bat For Your Young Child
Youth baseball bat size chart
Choosing the right size bat may be difficult for you even if you are a veteran less a first timer buying. Below is a youth baseball size chart to help you buying a bat right size for your young player.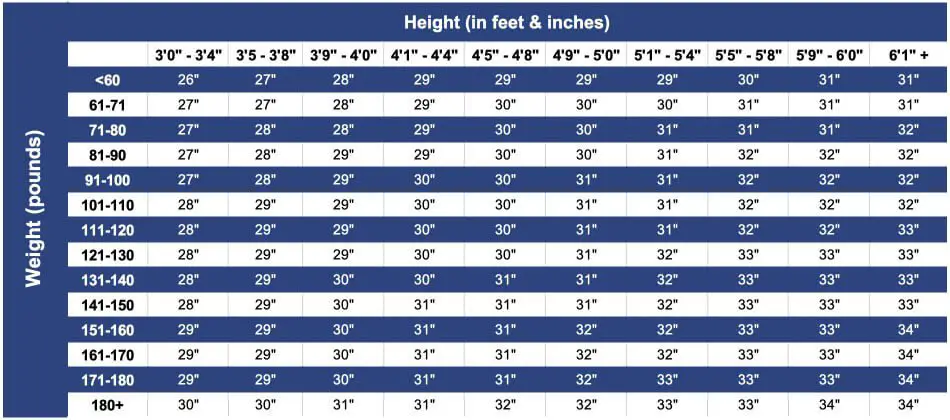 In this chart, the length and weight of a child's baseball bat determined through the child's weight and height, which makes the process easy most of the time.
Although the chart will help to pick a bat in right size and weight but have your player test out several bats himself to get the feel if the size is right. Also, the chart doesn't measure the strength your player has, so you have to keep in mind the strength of your child to pick the right bat. That's why testing several bats will ensure you have the right bat for your player which not only right in length but weight also.
Keep in mind not to make your child grow into a bat. Meaning, don't buy a bat that is a bit longer and heavier than recommended, hoping for the kid to grow into it throughout the season. Because it could be dangerous and potentially harmful for your player. Especially if he is just starting out at the game, he won't be able to swing and make contact properly.
USA Standard and USA Bats Rules
The USA standard is the new guideline set to monitor the performance of youth bats. This standard is relatively new which was adapted very recently and came to effect only in early 2018. It's managed by the USA baseball organization.
The main purpose of the rules set by the USA baseball organization is to make sure that non-wood bats provide performance on par wooden bats. Also, the rules were set to prevent or reduce any form of injuries to players in youth leagues.
As for bat rules, USA bats sized above 2 ¼-inch barrel is now allowed in youth leagues. Meaning, players can use 2 ⅝-inch bats to play in the league. But make sure your bat is certified by USA baseball before entering.
Lastly and the major requirement for a bat that needs to be used in the league matches by any national member organizations of USA baseball is that the bat will need the certification stamp from USA baseball. Any bats that don't carry the stamp can't enter any youth league under any circumstances even if the bat meets other requirements. So be careful and choose a bat with USA certification stamp for your youth player.
What Does Make a Bat Qualify for Youth Level Play?
This question is more difficult than it seems. Because the criteria for a bat varies depending on the age of the player or the league the youth player is participating in. We have listed different types of bats for different age bracket and different leagues.
It will make your job easier to find the right bat for your youth player.
Tee Ball Bats (Ages 3-5)
This is for the youngest players who are starting to learn how to play the game.
Rather than hitting from a coach or player's pitching, tee ball refers to hitting off a tee ball.
In general, tee ball bats are constructed differently from other bats because one needs to hit the stationary ball rather than a moving ball. Tee ball bats aren't made durable and may break even with soft pitches so take care to not practice with moving balls.
Youth Bats (Ages 5-11)
Youth baseball consists of players of a wide range of ages. Often, a youth bat is a downscaled model of an adult model, making it lighter with a thin barrel to make young players use the bat comfortably. In general, youth bats have a length to weight ratio between -8 to -13.5 the former being heavy and latter light.
The lighter ones are for young players and heavier ones for slight older youths to make better contact.
Junior Big Barrel Bats (Ages 5-8)
Some youth leagues don't have many restrictions for the size of a bat's barrel. You'll see junior big barrel bats in these leagues. These bats weigh basically the same as other youth bats, but the barrel is just thicker which creates for a wider sweet spot for consistent hits.
Junior big barrel bats are most often used in coach pitch leagues to develop a young players fundamentals. On another note, check your young player's league guidelines before purchasing a bat.
Senior League Bats & Youth Big Barrel Bats (Ages 8-13)
As a player grows in both age and size, youth and junior barrel bats won't work anymore. When it happens, it's about time to make your child start using a Youth Big Barrel Bat or Senior League Bat (the names are interchangeable). These bats barrel sizes are between 2 5/8 -inch and 2 ¾-inch in diameter. The drop weight of these bats can be as heavy as -5 or light as -12.
Again, check with your player's league if big barrel bats are allowed or not before purchasing. On another note, senior league bats cannot be used in the senior division of Little League Baseball. This division with players from the age of 13-16 requires a BBCOR bat just like high-school and collegiate leagues. You can check our list of best BBCOR bats if your child is playing in this division of the Little League Baseball.
Your main and first priority should be buying the best youth bat for your young player, not an unnecessary expensive one or a cheap one. You should look for a bat that is ideal for your child. After you find the perfect bat for the lad, you will see you are enjoying the game as much as they are enjoying. It's an essential aspect of the game to find the right bat for a player. You can check our list of best youth bats, and you can undoubtedly find a suitable bat for your young player.
Genarel FAQ About USA Youth Baseball Bat
Why USA bats are different from other bats?
A USA bat is made to perform as well as wood bats or even better. In short, with a USA bat, there's no need to hit hard compared to other bats. For example, compared to a bat with USSSA 1.15 BPF certification, a USA bat hits a ball less hard and fly far. Furthermore, USA bats carry the stamp certification from USA Baseball organizations, which sets them apart from other bats.
Can I roll USA bats?
One of the good parts of USA bats is that just like any other bats, they can be rolled using heat rolling. Generally speaking, heal rolling increases the speed of the bats breaking in process while improving their performance and pop up. Which is why most bats that have used heat rolling can improve their fitting limit by 40 to 50 feet.
However, keep in mind many leagues prohibit the use of rolling of bats. Therefore, before using rolling on your USA bats make sure to check the regulations and rules if there is any rule regarding that. If there is none, then you are clear to roll your USA bats.
Can USA bats be used in USSSA?
USSSA allows the players to use USSSA 1.15BPF bats just as they used in the previous league matches. In short, they did not adapt to the newest standard from USA baseball. However, they allow players to use the new USA bats as long as these bats meet other specifications given by USSSA baseball bats. So you need to check with the USSSA rules and regulation before using your USA bat.
Where Can I Buy a Baseball Bat?
That depends on the player because everyone has different preferences when it comes to buying. Some like to buy their bats from online marketplace, or some like to buy from their local sporting goods stores. Both have their advantages and disadvantages.
First of all, buying goods online is extremely popular right now because of convenience and ease. Because you don't need to leave your home to buy from online. Furthermore, you can buy the product of you liking online even if you are from the other side of the planet. Meaning, you can get the best deal for your shopping as long as you are willing to wait for a few days for the item for shipping and arriving at your doorstep. You can also check for reviews from other sites before purchasing the bat. The only downside of buying online is that you can't get the experience the feeling of holding the bat physically and testing it out yourself. If you
Secondly, you can try out buying from a sporting goods store and swing it around to get a feel if the bat is fit for you. Some baseball pro shops even have a batting cage to let the customers try out their bats before purchasing, something online shops won't give you. The downside of this that you may not get the best deal out of your bat if you are not knowledgeable about this stuff. Our blog also has great review content that discusses things like the best youth baseball cleats and more!
If you want to get the best deal for you bat but don't have much time for going and buying the bat yourself it is recommended you buy your favorite brands bat from Amazon. Amazon is a trusted and reputable multinational technology company operating online that sells high-quality performance baseball bats at the best price.
What's The Average Cost Of A Youth Baseball Bat?
The price varies depending on various factors. A high-end can cost up to $300, and you can find the cheapest one at between $30 to $50. So before purchasing a youth baseball bat, you need to consider whom you are buying for the bat. Especially how old the player is. If the kid is just starting his baseball career, then there is no need to buy a high-end baseball bat instead opt for a cheap and durable bat that is comfortable to use. Keep in mind that high-end bats have features that low-end bats don't have. But even so, spending too much on a bat that doesn't suit the player is no good. So it is recommended to check out middle priced in the $100 range bats and pick one with decent features.
What Is The Amount I Should Spend On a Bat?
Depends on who are you buying it for and various other factors. For example, purchasing a high-end bat for a little league player may be too much, but even so, a low-end bat may become damaged soon or may not be comfortable in his hand. The best compromise is looking for a middle priced bats that have some features you would love for your kid. Especially look for bats that are durable and will reduce vibration to prevent sting on hand in case of a mishit.
As for the cost, there are many good middle priced bats in the market, and if you are willing to spend a little, you can find a decent featured bat in the $100 range. But keep in mind not to spend too much just looking for features. What you should look for is the best youth baseball bat for the player you are purchasing for. So make sure the bat fits the player you are buying for.
What is USA baseball?
USA Baseball has been the governing body for the sport of baseball since 1978. As a member of the U.S. Olympic Committee (USOC), it represents baseball in the United States. Furthermore, the governing body is a member of the World Baseball Softball Confederation (WBSC).
Most national amateur league organizations are a part of USA baseball and they manages more than 15.5 million players in ballpark and playgrounds all around the country.
What Does Bat Standard Mean?
This depends on the skill and the division the players is participating in. For example
Players participating in Tee ball, minor, and major division must use a bat approved through the USABat standard.
One must use the USABat standard bats or BBCOR standard bats at the intermediate baseball division or Junior League Baseball Division.
And one must use BBCOR bats at the Senior Division League.
What Organizations Are Using The New USA Bat Standard?
In addition to Little League, these organizations are using the new USA standard – American Amateur Baseball Congress (AABC), Amateur Athletic Union (AAU), Babe Ruth Baseball/Cal Ripken Baseball, Dixie Youth Baseball, and PONY Baseball.
Will there be a new USABAT standard for softball bats?
No. This standard is for baseball only so softball bats will not be affected by any regulations or rules of the USABAT standard.
If it's your first time shopping for a youth bat, then you may feel confused with so many types of bats available. You have to understand various factors like which league your player will participate in or the difference between composite bats and alloy bats. Or why some bats are one-piece or two-piece and much more.
Every type of bats has its own advantages and disadvantages. To make it easier, we have listed different types of baseball bats down below.
Alloy Baseball Bats
Alloy bats are a type of one-piece bats popular towards players of all levels. They are made from aluminum or similar material. Nowadays, every bat manufacturing company has their own engineered alloy designed to work better than its competition.
Power hitters prefer alloy bats because they are heavier and more responsive than composite bats.
Composite Baseball Bats
Composite bats just as the name suggests bats made from composite materials like carbon fiber and so on. These types of bats are designed to be lightweight, durable, and high performing. Best composite baseball bats are typically preferred by contact hitters who like to swing fast and capable of hitting line drives.
They are also bats preferred by players who don't like unnecessary sting on their hand as composite bats don't produce extra sting.
Hybrid Baseball Bats
A hybrid bat typically has a composite handle and alloy barrel which allows these types of bats to take advantage of the best qualities of both materials. This also means they are two-piece bats as well.
But now some bat makers have created hybrid one-piece bats with composite end caps. While these bats are technically two-pieces but they perform like one-piece bats and are called such. This resulted in some companies distinguishing their own hybrid bats as "true hybrid". Meaning, the handle, and barrels are of two different materials.
Wood Baseball Bats
Wooden bats didn't have much popularity to youth players from the very beginning because they weigh too heavy to swing effectively for most young players. Also, they don't perform like top quality alloy and composite bats. However, with the introduction of the new USA standard, everything has changed.
The new standard regulates the performance of metal or other bats to perform similar to wood bats, which means there is a chance of increasing usage of wooden bats in youth ball and other leagues.
Keep in mind that in the highest level of baseball competition (MLB) wood bats are the only type of bats allowed. So if your young player wants to challenge the highest level in the future, it would be better to make him get used to wooden bats early. However, don't force your child and let him practice with the best youth bats to improve his skills.
One-Piece Baseball Bats
As a thumb of rule one-piece bats is stiff and more responsive compared to their other counterparts which make them perfect for power hitters. The bat is constructed with one solid material, so no energy is lost upon contact with the pitch. The only drawback of one-piece bats is that the responsiveness can cause extra sting to the hand.
These types are often seen as the best aluminum bats and associated with power hitters because they look for a stiff feel for their bat when they hit the ball hard.
Two-Piece Baseball Bats
Two-piece bats have two main parts with a barrel and handle joined together at the taper. In general, the handle and barrel are made of two different materials. The main advantage of the two-piece design is comfort and performance. As far as comfort is concerned, two-piece bat users experience much less sting any other bats.
There are even some bats that reinforce the connection between the handle and barrel to provide the players with more comfort. Hybrid bats are also a type of two-piece bats because of the distinct feature of made of two different parts in different materials. The best hybrid two-piece bat can provide a player the ultimate comfort along with the performance of a responsive alloy barrel. Also, they provide excellent speed along with the flex of a lightweight handle.
Three- and Four-Piece Bats
Some bat manufacturers started producing three- and four-piece bats. Typically they add a small connection piece between handle and barrel or an end cap separated from the barrel. However, even with the added features, these bats basically performs the same as two-piece bats.
Are You Looking For Best Batting Tee?
The Best USA Youth Baseball Bat Brands
Many different companies are selling different kinds of bats in the market. The only similar aspect of these brands is that all of them are trying to produce the best baseball bat. Understanding which companies bat fits best for your player is pretty important too. Among all of the companies operating in the market, there is only a handful that standout with high-quality performing bats.
Below are some of the best baseball brands on the market:
Louisville Slugger
The Louisville Slugger is the oldest bat manufacturer in the list having a century of expertise in the bat marketplace. No company can last so long without a proven track record. Yes, they proved themselves producing countless top quality baseball bats. In short, they have unmatched bat making experience among all baseball bat producing companies.
The Louisville Slugger is known to produce top quality bats that are durable and long lasting while providing excellent performance.
Easton
If any brand can contend with the Louisville Slugger Prime in the baseball bat marketplace, then it's Easton. But unlike Louisville Slugger which specializes in manufacturing wood bats, Easton produces quality alloy and composite youth baseball bat and made a name for itself. In fact, they were one of the first brands to make metal bats.
In short, Easton typically has some of the best alloy and composite bats on the market.
Rawlings
Most known for their gloves, Rawlings is well known when it comes to manufacturing bats as well. They produce high-quality bats at affordable prices which can contend some of the high-end bats made by top brands like Easton or Louisville Slugger.
Marucci
Marucci is a relatively new company compared to Louisville Slugger or Easton, but in the short timeframe, they made themselves as a household name when it concerns manufacturing baseball bats.
They have some of the greatest hitters in the game as their advisors. The list includes the likes of Albert Pujols, Andrew McCutchen, and Jose Bautista.
The bats they make are inspired by pros, created by pros and targeted towards professionals as well.
Demarini
The developers of Demarini knows that the appearance and design of a bat are just as important as its performance. That's why they have a custom design tool online to allow customers to pick the colors, design, graphics, and other aesthetic options.
The bats made by Demarini are known for their beautiful appearance along with some serious power with the custom design. One of the popular ones is the Demarini cf7.
Axe Bat
The Axe Bat is the newest company in the list. But they have certainly made their mark on the baseball bat marketplace and climbing up the ladder very quickly. This company is looking to revolutionize a bats style and people's preference by changing the old design. They believe that traditional bats handles and knobs are flawed.
The bats made by Axe Bat are shaped like an axe origin which not only gives a comfortable feel but also helps players help conquer the inside part of the plate and hit pitches better. Also, it may prevent some injuries as well. Also, some of the best youth Axe bats have 30-day no-risk trial guarantee.